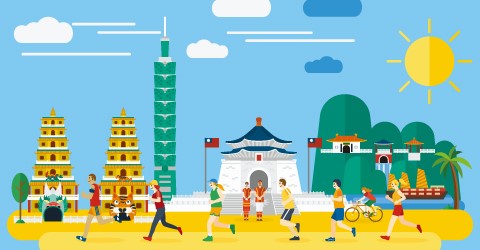 Source: Taipei Times

"The Taipei Marathon was awarded the 'International marketing prize' in an online poll conducted by the Sports Administration Department in October, indicating that the event has gradually become more international," Ko said. "I hope in two or three years, it can be certified as a top-level international marathon."
About 3,200 runners from 51 countries joined the marathon this year, Ko said, adding that it is the largest international sports event to be held in Taipei since the 2017 Taipei Summer Universiade, and the city government worked extra hard to showcase the city's beauty, passion and vitality to the world.
Despite the low temperature of around 11°C, approximately 27,000 runners showed up in front of Taipei City Hall to participate in the annual race, which divided runners into half-marathon and full marathon groups.
In the full marathon, Kenyan-born French runner Abraham Kiprotich completed the course in 2 hours, 17 minutes and 49 seconds, winning the men's division. Kenyan runner Leah Jebet Kiprono crossed the finish line in 2 hours, 45 minutes and 51 seconds, winning the women's division.

Source: Taipei Times
Taiwan Trade News Centre: https://www.taiwantrade.com/mp/news-center