Developers, distributors and retailers were given a preview of what to expect at this year's COMPUTEX show in Taipei, during an event hosted at the Taiwan Trade Centre in London in February.

Mr Chi-Young Chen opened the event by introducing the crowd to the ICT industry in Taiwan, where world-class engineers are leading the way with exquisite design, making Taiwan an ideal place to find a new business partner.
"Taiwan is very competitive in computing technology," explained Mr Chen. The Director of Taipei's Representative Office Economic Division went on to detail that around 45% of Taiwan exports are in ICT, compared with just 12% of exports in America.
Key takeaways:
COMPUTEX is the largest technology show of its kind in Asia. With a focus on ICT, the event attracts over 42,000 visitors from over 160 countries, eager to feast their eyes upon the latest offerings from big name brands such as Microsoft, Acer, Intel and ASUS, as well as product demos from promising startups and innovators.
Mr Leo Waldock, Senior Editor at KitGuru, said that COMPUTEX gives them enough material to write about for months afterwards. He also gave a taster of what to expect from the show; where attendees can experience the latest in computing hardware, laptops and gaming. Mr Waldock told the crowd that COMPUTEX is the main event of the year for KitGuru, as many Taiwanese companies have a production drive towards the middle of the year so there are plenty of new launches being announced.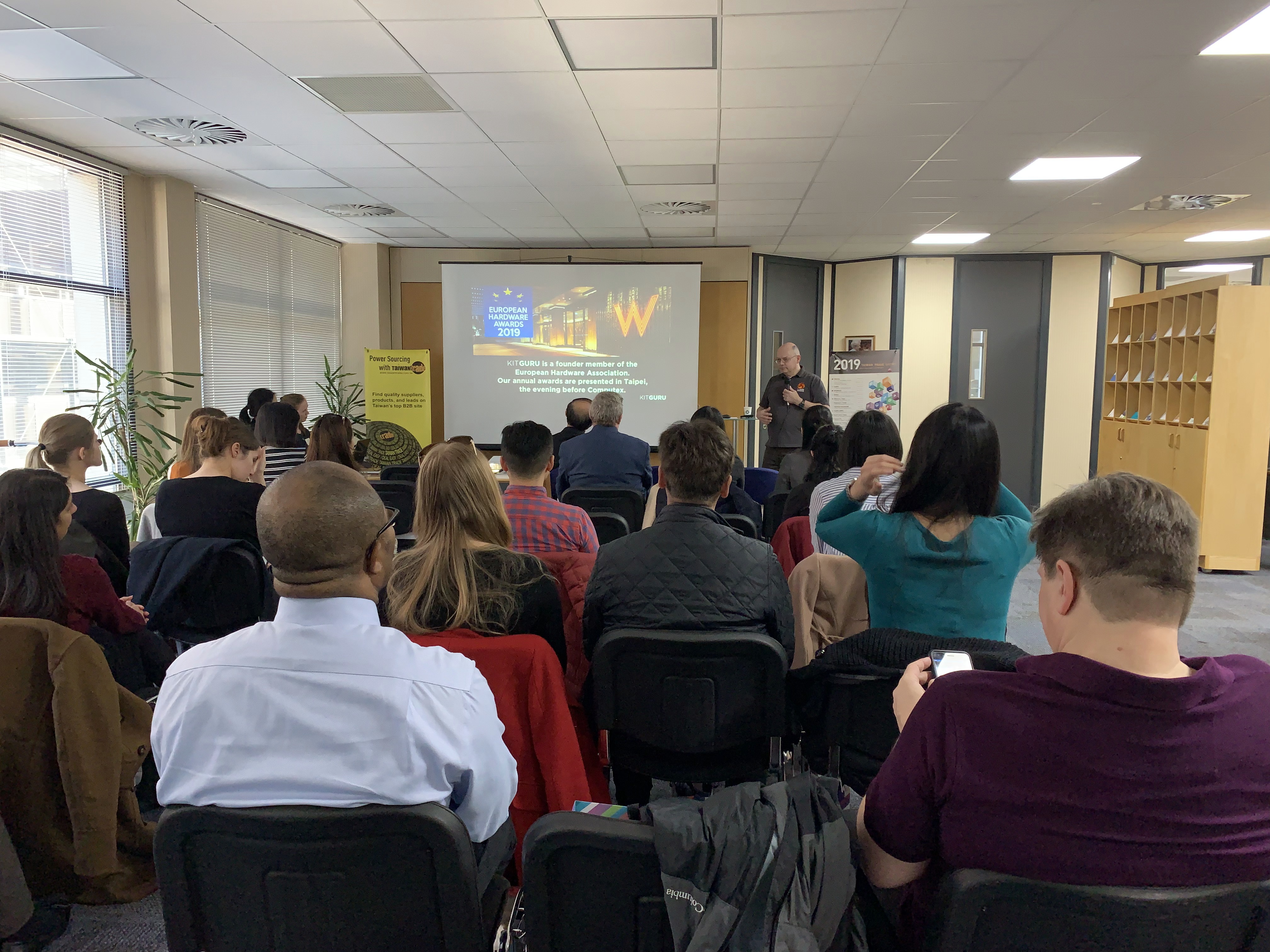 Attending the show also gives business representatives a direct link to suppliers, which is especially beneficial for UK-based companies.
"To talk face to face to the engineers behind the products makes such a difference; as we can explain what we are looking for and they can explain their product in more detail,"
Mr Waldock said.
Dave Stevinson, Managing Director of GNR Technology Limited and a veteran COMPUTEX attendee, advised attendees to befriend R&D specialists within target suppliers. "Taiwanese companies are more agile than other countries," he said when discussing his past experiences. "They are responsive to design innovations and have their ears open to what people want."
Suppliers in Taiwan are also incredibly friendly. This is crucial for doing good business, as it means that they are loyal, and focused on quality and cost control - all while being keen to build partnerships.
This represents part of a wider shift within the ICT industry in Taiwan, where companies are moving from a focus on cost-conscious manufacturing to supporting entrepreneurship and making global partnerships.
Ms Irene Lin, manager of the Taiwan Trade Centre, was on hand to reflect on the highlights of last year's show, and to give attendees a tantalising insight into what to expect in 2019.
"This is the best chance for buyers to meet with quality suppliers and nail down their deal on site," she said. Ms Lin concluded her introduction to the industry by reminding attendees that there's a special exhibit for global start-ups alongside Computex called Innovex. Here startups can demo their products to potential buyers and investors.
A thriving startup scene is taking root in the compact country, as innovators are attracted to the availability of cutting-edge technology. Taiwan is the number one import source on electronic parts and second for ICT products more generally.
Mr Stevinson closed the event with an impressive demo of an earpiece translator, giving the audience a thrilling peek at the kind of innovation that will be on offer at COMPUTEX in the summer.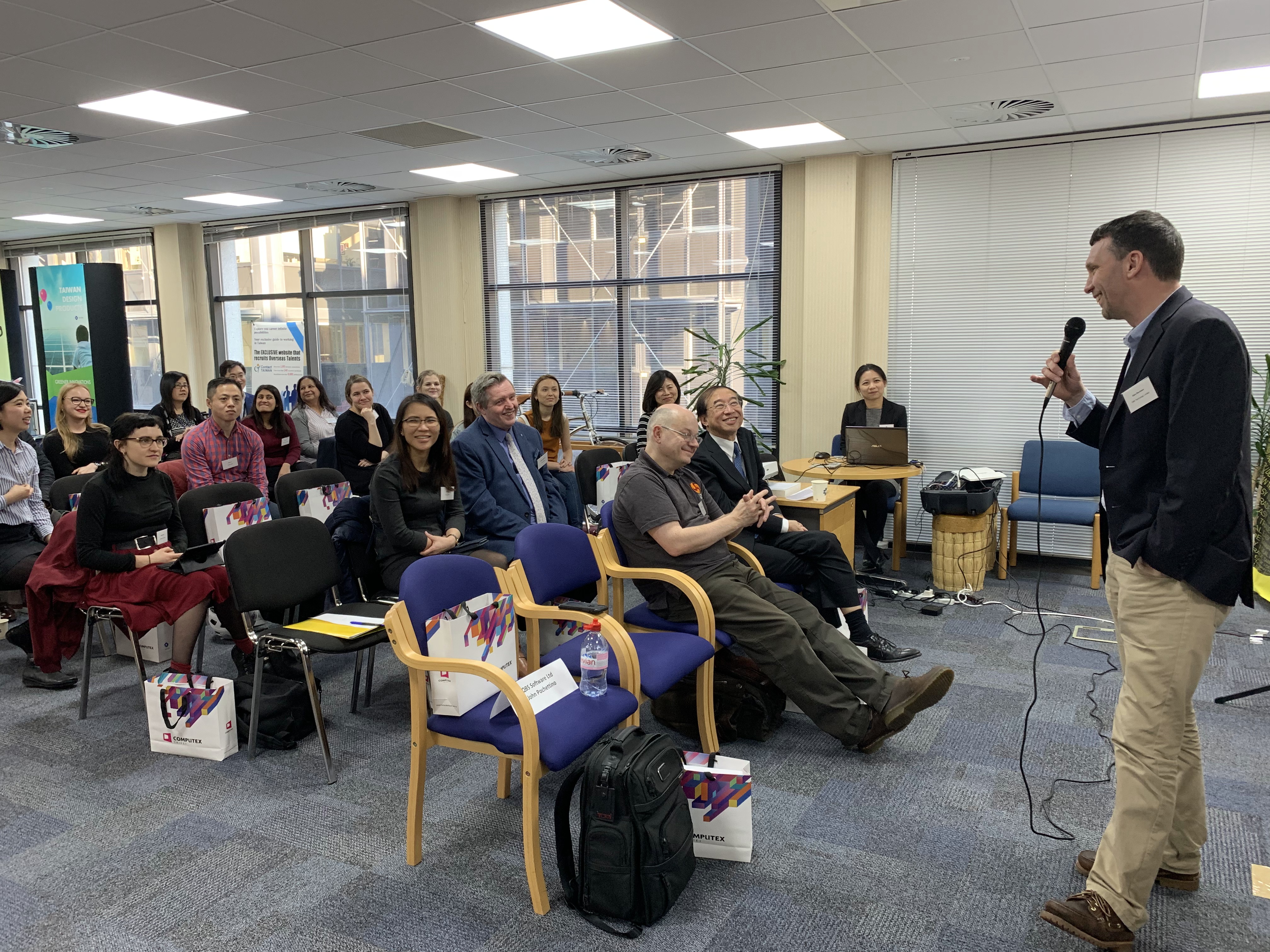 COMPUTEX Taipei: May 28th - June 1st inclusive
Last year, COMPUTEX attracted 1,602 exhibitors from 30 countries. There's a special exhibit alongside COMPUTEX called InnoVEX. At InnoVEX, 388 startups from 21 countries showcased their products to more than 500 VCs and over 80 accelerators.
This year visitors can expect:
Exhibitors within Blockchain, AI and IoT, Gaming & XR and 5G as well as startups and innovators.

A new exhibition centre, called the Nangang Exhibition Center Hall 2 will host exhibitors in the following; SmarTEX, Cyber Security & Video Surveillance, Touch Applications & Display Products, Smart Retail & Business Solutions, Communication & Networking, Mobile Device Accessories, Computer Peripherals & Accessories, Country Pavilions.

Specific sessions including 'disruptive trends', AI, and Digital and IoT.
InnoVEX: May 29 – 31
Startups from across the globe are given the chance to pitch their product to top VCs, and win $30,000.

Events including forums, pitches contest, matchmaking, roundtable discussions, workshops, and startup tour.

The startup tour will give attendees an inside look at the environment for startups and manufacturers in Taiwan
Incentives are available to UK-based buyers to assist them in making the journey across the globe. There are also subsidies available for UK based leading startups to exhibit at InnoVEX.
If you would like to pre-register for the show or wish to find more about incentive opportunities, contact
london@taitra.org.tw
to find out more.