Formerly the Taiwan International Green Show, the 2018 expo has been rebranded in line with the government's 5+2 plan, which highlights green energy and the circular economy as key areas for Taiwan's growth. The exposition is being designed to "showcase the latest industry trends centred on green and eco-technology under the themes of 'zero waste' and 'resource efficiency,'" states TAITRA.
Exhibitors will include providers of waste treatment and recycling equipment from a wide range of recycling sectors, including municipal solid waste, organics, composting and sludge treatment as well as air and water purification and conservation.
In addition to rich and exciting exhibitions, industry summit forums will be held during the show for topics such as solar energy, wind energy, hydro-energy, and circular cities, along with the second "East Asia International Forum for Technologies to Purify Indoor Air", product launch events, and more than 50 other exciting events.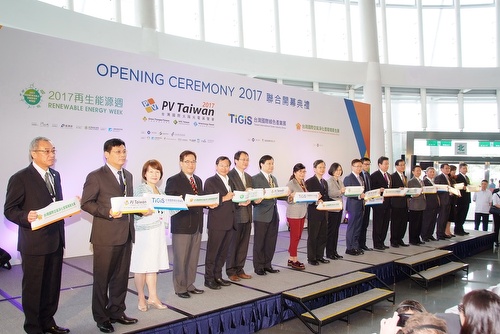 President Tsai Ing-Wen attends the opening ceremony for the 2017 Taiwan International Green Show
Industry experts and major player companies will be invited to share about their experience, with presentations of the latest technologies and forecasts for future trends and industry developments.
The event will be held from September 19 to 21, 2018, at Nangang Exhibition Centre, with up to 600 show booths expected, and is estimated to attract 17,000 buyers from domestic and international markets.
*If you are interested in attending the show, please contact our office to pre-register. Partial subsidies are available to UK and Ireland companies, depending on eligibility conditions.*

For more information please contact us at:
Email: london@taitra.org.tw
Phone: 0207-638-4676