IoT, Big Data & Digitization

From the Internet of Things (IoT) to Big Data, digitization will transform industries and daily lives. Cycling may be shared on social media and rider safety may be monitored in real-time, with smart upgrades via connected mobile devices and software.
Taipei Cycle Plus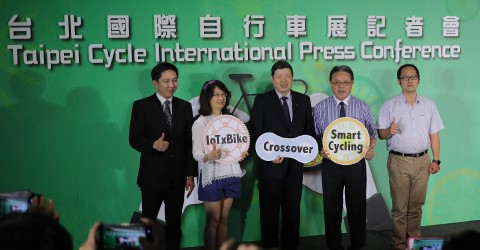 The 2018 trade show will feature a special exhibit: Taipei Cycle Plus. Here visitors will get a close-up preview of innovations incorporating intelligent technology. Taipei Cycle Plus will be held simultaneously with Taipei Cycle in the Taipei World Trade Center (TWTC) Exhibition Hall 3, from October 31 to November 3.
Demo Day & Forums

International forums on the e-bike market, digital marketing and bicycle travel will be held in conjunction with Taipei Cycle 2018. The Demo Day will return to the Hua Zhung Campsite on October 30. Applications to participate in the Demo Day are currently open to exhibitors interested in offering visitors the opportunity to test ride new products.

Preregister now

**Taipei Cycle is currently open for preregistration. Please contact us at london@taitra.org.tw or on 02076384676 to preregister for your free entry badge with fast-track entry and complimentary metro pass. A limited number of Taitra subsidies are available to eligible UK buyer companies to attend the show. Please get in touch for more details and to apply.**